Introduction
LENS Foundation added another center in association with Samarpan Foundation which is located under Delhi Yamuna Bridge. The community there consists of rickshaw pullers, farmers, and low-paying labourers who work very hard to make ends meet. The community lives in harsh conditions with no sanitation facilities and access to clean drinking water. Children in the community are deprived of basic amenities like food, shelter, and education. They are treated as mere extra hands and forced to beg or work as a labourer. LENS Foundation started the center with a temporary set-up as concrete construction is not allowed in the area. LENS Foundation serves children of the whole community in the form of education and nutrition.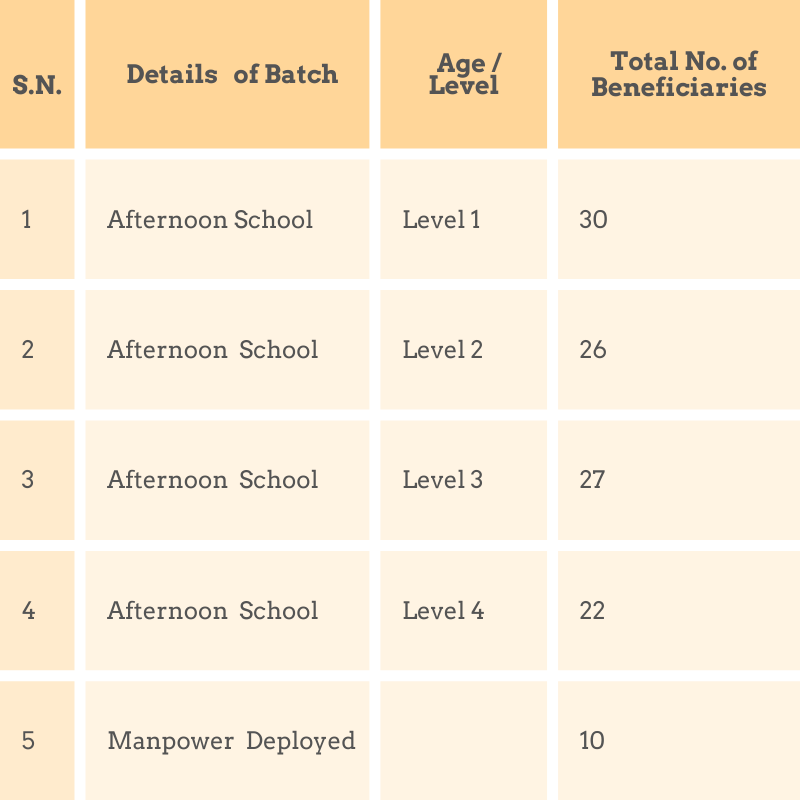 Project Highlights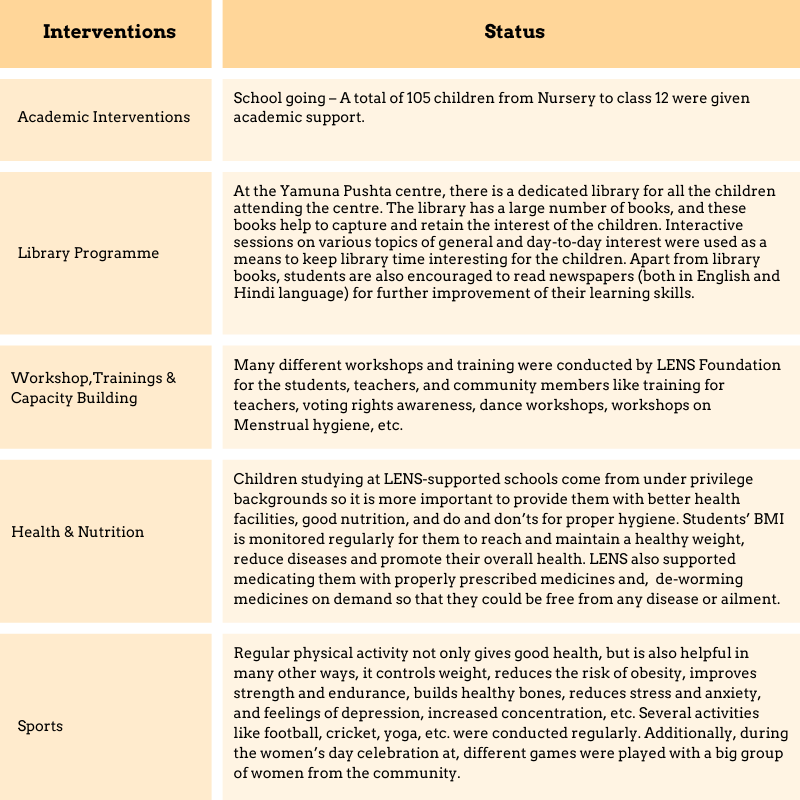 Classroom and Toilet Construction
LENS believes that a classroom environment is a second teacher for any student, as a large amount of the child's time is spent sitting in a school classroom. LENS Foundation supported the construction and renovation of the classrooms. Apart from the classroom, a toilet was also constructed during the year.
Distribution
Many important things are required along with changing seasons hence the LENS foundation periodically distributes essential items such as sweaters, shoes, clothes, etc. to the students.
Nutrition
A healthy and balanced diet is very important for a growing child; a kitchen is run in the school to provide the hot meal for the students. In the kitchen, it is taken care that the students can get nutritious meals that are good for their health and physical growth. During the celebration of different events, and programmes, a special meal was also served including some sweets and chocolates. The BMI of each child is measured quarterly to measure the Nutrition Aspect also. LENS also support medicating students with properly doctor's prescribed medicines, and de-worming medicines so that they could be free from any disease or ailment.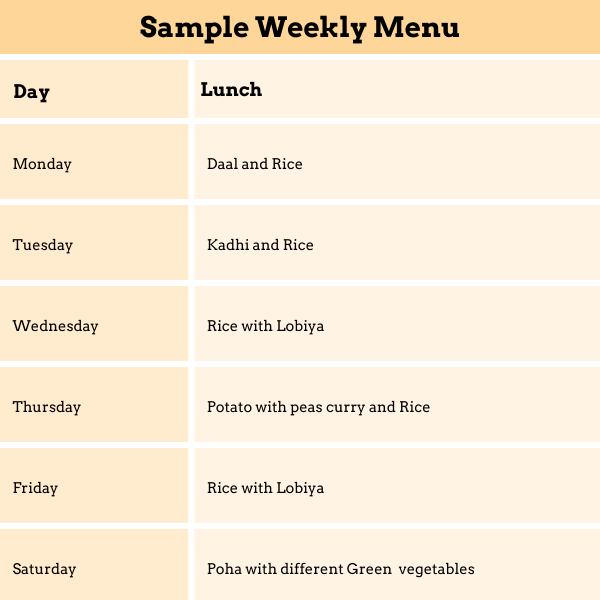 Awareness Workshops Menstrual Health Management
It's not uncommon for women to talk about menstruation with code words, considering the taboo surrounding this subject and the restrictions placed on girls and women when they are menstruating. LENS facilitated workshops for awareness on the matter to help break the myths surrounding menstruation and debunk the taboo attached to it. With the help of Raindrop Foundation and partner NGO Samarpan, a workshop on menstrual health was held at Yamuna Pushta School to spread awareness among the students and community inhabitants.
In a highly interactive session, a big group of women and young girls participated in the workshop and learned many things about menstrual and personal hygiene. A question-answer session was also conducted to clarify any doubts and myths related to menstrual hygiene. Underclothes, Sanitary napkins, menstrual cups and tasty/delicious refreshments were also distributed to them.
Water conservation
In order to sensitize children on the prevalent shortage of water and how important it is to save it- a workshop was conducted where children were taught to plant more trees and save water wherever possible. Not just this, but the repercussions and the consequences were eye-opening to the kids. The session made them realize the significance of water.