Introduction
LENS Foundation initiated another project with partner NGO Sai Sanrachna Foundation. The project is being run to educate the marginalized and deprived community of Sector 15, Vasundhara, Ghaziabad. Most of the target people are migrated labourers from U.P. and Bihar and work as daily wagers in nearby industrial areas of Ghaziabad, Noida, and Patparganj. These laborers live in very pitiable conditions in small huts and do not have any access to basic amenities either. Sanitation, health & hygiene are also big problems for these people.
LENS supported the "Bachpan Sawarein" project with implementation partner NGO Sai Sanrachna Foundation with the primary objective to fulfil the need for education and get the students admitted into the mainstream education system for the needy children of the area. LENS also supported by providing nutrition for the students enrolled in "Bachpan Sawarein" school.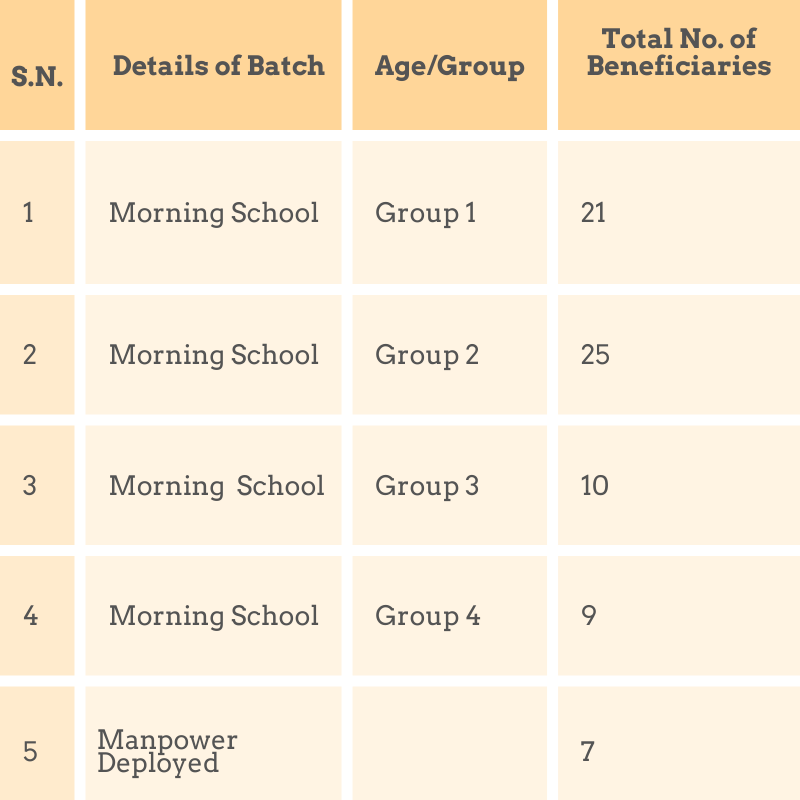 Project Highlights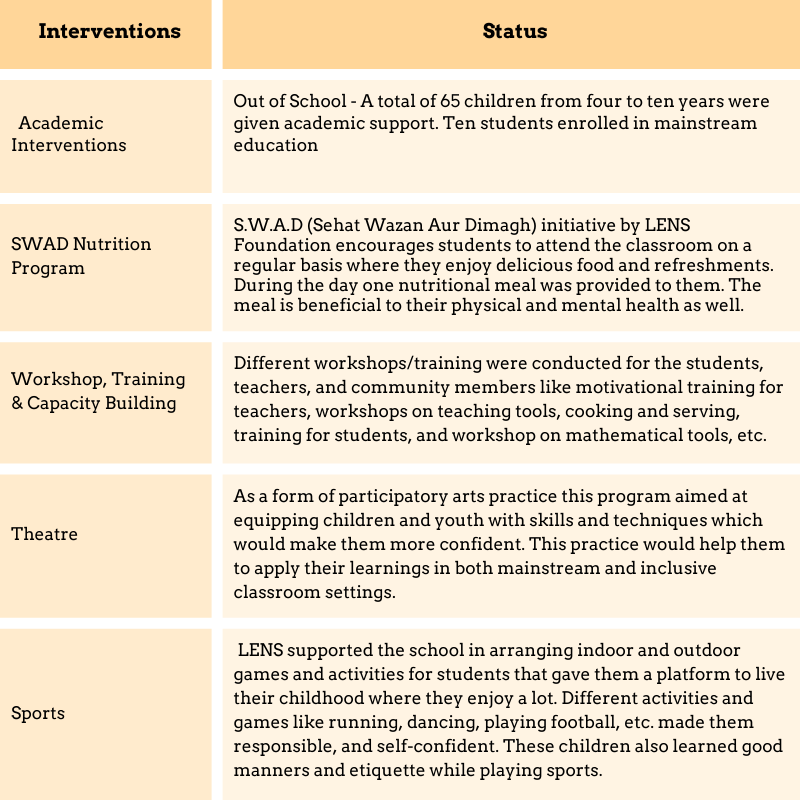 Distribution
Many important things are required along with changing seasons hence the LENS foundation periodically distributes essential items such as sweaters, shoes, clothes, sporting equipment etc. to the students.
Theatre for Development
As a form of participatory arts practice and through this, we aimed at. equipping children and youth with skills and techniques which made them more confident. This practice helped them to apply their learnings in both mainstream and inclusive classroom settings.
Dance for Development
Introducing dance to children at a young age will support their creativity, cognitive connections, socialization, and physical coordination. Because there are unlimited dance expressions, children find immense joy in moving their bodies, and as children become more confident, structured and age-appropriate lessons can be prepared for them. Dance can also be integrated into a lesson plan as an alternative teaching method.
Sports for Development
Participating in sports offers many significant life lessons and values to children. Certain attributes that come from participating in sports like discipline, overcoming adversity, and resilience cannot be picked up anywhere else. Sports also is a great way to learn how to be a team member and make friends.
Development Screening
LENS Foundation arranged and supported to organize "Development Screening" assessment for the twenty students between the age group three to six years. The objective of the screening was to check if the student is meeting their developmental milestones (speaking, moving, behaving, etc) and also check if they are on track in an age-appropriate manner using validated instruments/tools.
Teacher Training
Team building and curriculum-based training were conducted for teachers. The session was conducted by Yamini Sharma, and six teachers, one coordinator, six change makers, and two volunteers participated in the training. Team building activities were completely based on coordination and analytical thinking. During the training session, it was taught to teachers and volunteers how they can make their sessions interactive and engaging for the children by sharing stories on the concept they are teaching them as well as how important is to observe and give attention to each and every child during the classroom. The key outcome of the session was that teachers should create simple and informative sessions so that more children can enjoy and learn.