Introduction
The Bagalur Layout School (BLS) is a small education centre being run in the Bagalur Layout Slum in Bangalore. The slum houses over 100,000 residents, with very little access to education and basic facilities. The BLS attempts to enroll students into its formal school curriculum and provides them a chance to escape the certainty of manual and/or domestic labour as the only career choices in. The school not only provides education but also two balanced meals and medical support to the students.
The school infrastructure consists of an independent house with three rooms, a kitchen, a dining space, two toilets, a washing area, and a small play area. There are two teachers, one teaching assistant, one maid, and one caretaker cum cook.
The school runs from 9 am to 3 pm and the activities include the usage of teaching aids, colouring, painting, art & craft, storytelling, dancing and singing, and playing indoor and outdoor games. They are also taught basic hygiene and are provided with milk, fruit, and nutritious lunch. The meal is prepared by the cook in the school.
LENS Foundation undertook all expenses of the school towards their morning pre-school and evening tuition fees, picnics and outings for students, a periodic dental and general health camp, along with monitoring outcomes and progress.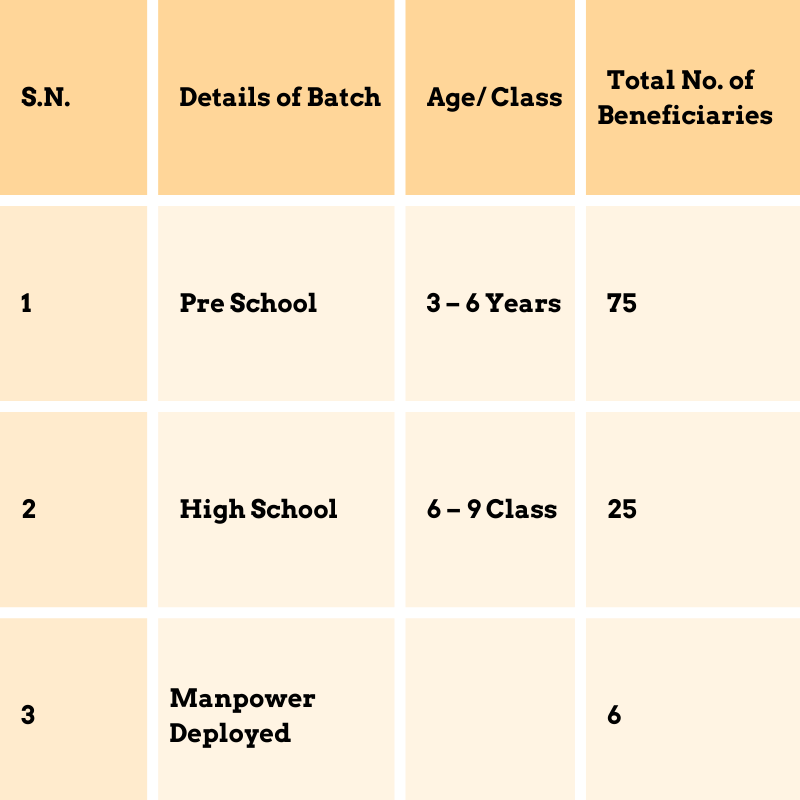 Project Highlights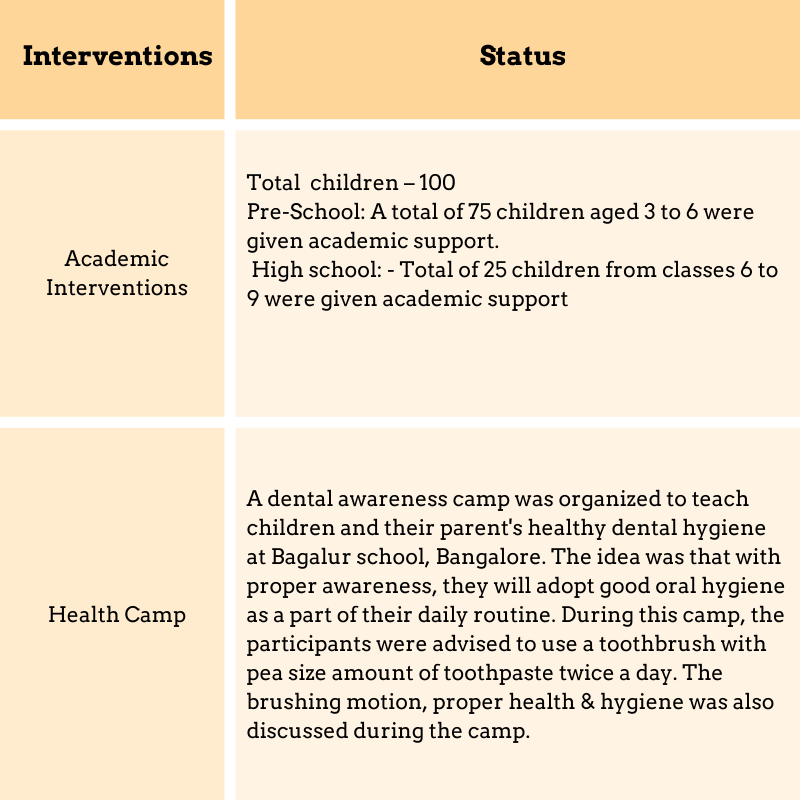 Initiatives
Exposure Visit
Supermarket Visit
An exposure visit was organized for the preschool children, and they enjoyed their field trip to a nearby supermarket. A great way to get students excited about a topic you are teaching is to take them on a field trip that reinforces what they are studying. A supermarket is an optimal choice for a field trip for students because of the variety of topics that can be focused on like how to work within a budget, the concept of measurements, and how to make healthy food choices. In the end, each child was allowed to choose a healthy snack to buy.
Bliss Chocolate Factory Visit
Additionally, the evening tuition children thoroughly enjoyed their field trip to Bliss chocolate factory. The students were first given a virtual tour of the entire plant which revealed their range of various products. Bliss factory not only deals in chocolates, but they also make bread, muffins, cakes, biscuits, etc. The virtual tour was followed by an actual tour of the production plant starting with bread. The visit gave them an opportunity to learn the process of demand, production, supply, and marketing.
HAL Heritage Center
LENS Foundation organised a trip for 40 children from the Bagalur layout slum school to the HAL Heritage Center and Aerospace Museum. The children were in the age group of 8-13. The children were exposed to the latest innovation and research work being conducted by HAL as well as the history of Indian aeronautics. LENS Foundation and its partner organizations hope that such an excursion will generate interest in young children about this highly developed field of technology in which India has a leadership position and some of them will be motivated to pursue it as a carrier.